In life, I think the most fun comes from the simplest things. Babies play with their own feet, cardboard boxes, and wrapping paper. Isn't it the most awesome thing when you can get your kids to enjoy their otherwise plain food just by making it in fun ways? That's what today's post is about. Fun (and easy) food! My kids would clearly choose a bag of Doritos over a bowl of fruit anyday but NOT on the days I make their fruit fun
Fruit Kabobs are something that is healthy and totally customizable. The colors of fruit are like an endless rainbow. You can pretty much find fruit in colors to match any holiday or theme you can think of. Today, I will show you just a general example of some awesome fruit on a stick!
I decided to make the kabobs to have for dessert this particular night and just used the fruit I had on hand. I wished that we had not just finished off the last of the kiwi's because it would have been super pretty with that added green pop but nonetheless, my kids loved them anyway.
Ingredients
FRUIT – any kind that can be cut into uniform chunks without falling apart
STICKS – I used chopsticks because I  felt like they were less sharp than regular skewers. You could also use cake pop sticks if you're making smaller kabobs.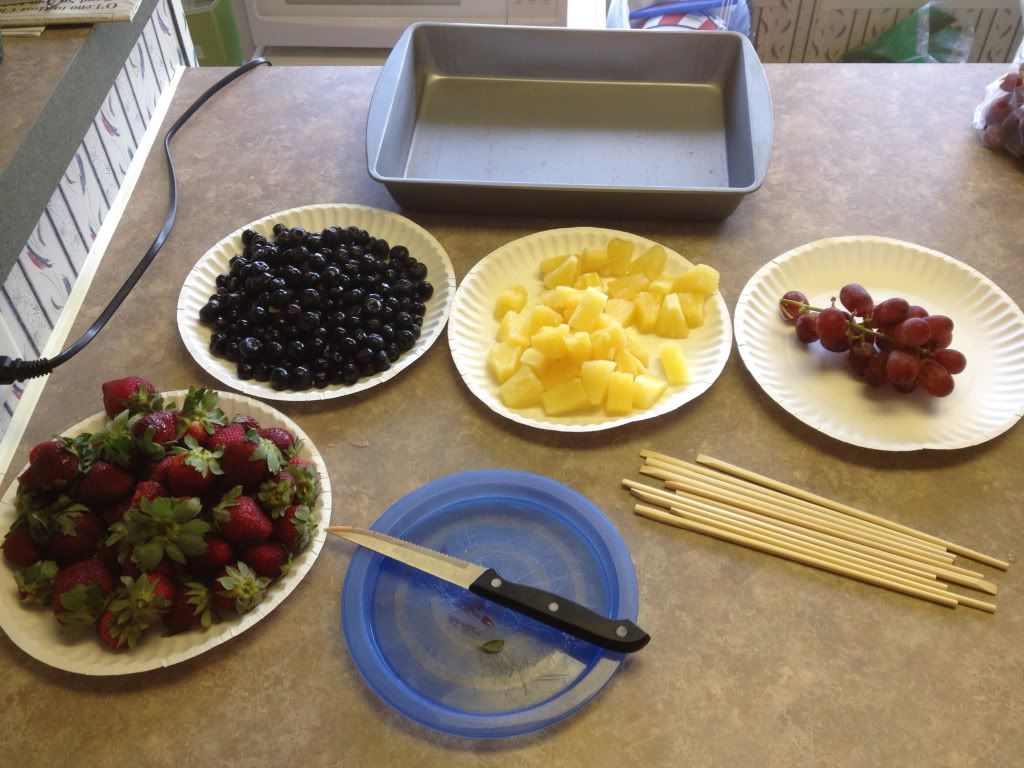 Directions
Separate chopsticks. Slide pieces of fruit over the slanted/pointed end of the stick all the way down to the point where your fingers that are holding the stick. I used blueberries and grapes on the ends because I felt like they were the most sturdy and  and would serve as "stoppers" for the other fruit. Place on serving tray. I knew that It would be quite a few hours before I served mine so I put them in a 13×9 pan and covered them with foil.
*Side note* If you intend to use a fruit that browns in the air like bananas or apples, just squeeze some lemon juice over them after slicing and they should be fine
Fruit & Colors
Red: Strawberries, Cherries, Raspberries, Apples (cut into chunks with skin left on), watermelon, red grapes
Orange: Oranges (obviously), Mango's, Cantaloupe
Yellow: Bananas, Pineapple (I used canned but I think fresh would be more stable), Lemons (hey, my kids eat them like oranges), Papayas
Green: Kiwi, Green Apples (in chunks with skin like red), Green Grapes, Limes (I know, my kids are crazy)
Blue: Blueberries – wow, is that all the blue fruit? I guess!
Purple: Blackberries, Grapes -  are there more? Not that I could think of!
To Dip or Not to Dip?
I had intended to make an awesome dipping sauce to go with my kabobs but push came to shove and I didn't have time so I served them plain. The kids (AND Mr. Perfect) loved them anyway. If you'd like a dipping sauce of some kind, you can use Cool Whip, vanilla yogurt, or plain yogurt mixed with honey. You could even melt some dark or white chocolate and drizzle before serving.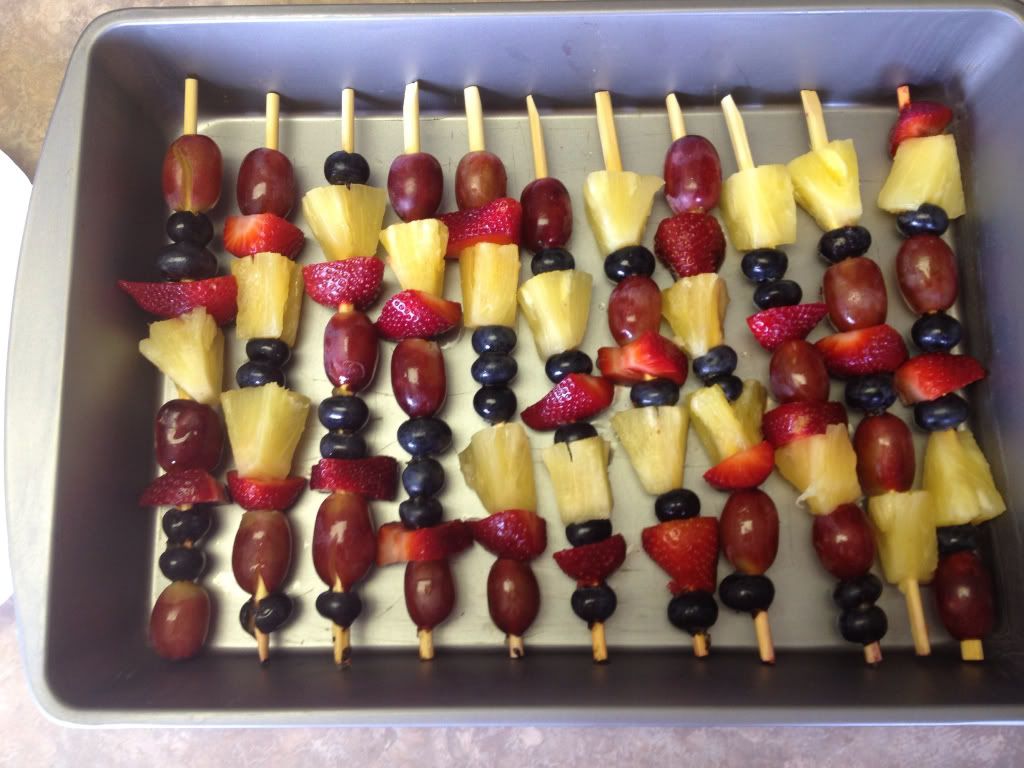 TADA! Easiest to make, funnest to eat dessert ever!  The possibilities are endless!