I think every mom has had at least one (or many, in my case) of those days where thinking about what to cook for dinner makes you wanna take a nap. Yesterday was one of those days for me. I really don't like to cook unless the meal is super easy with the least amount of ingredients possible. So, where does one go for creative cooking ideas? Pinterest, of course! I found many versions of homemade corn dogs and kind of stored them collectively in my mind for later. When dinner time came, I was super exhausted (like, can i just buy happy meals exhausted), so this is what I threw together.
My kids could live on hot dogs, literally.  Now, I know they aren't the most healthy of foods (the worst probably) but sometimes, when push comes to shove, we moms just have to do what we can to survive. So, in the grand scheme of things, it could be worse, right?
Ingredients needed
Hot Dogs (I used bun length and had 2 left over)
Jiffy Corn Bread Mix (I used 2 boxes)
Grated Cheddar Cheese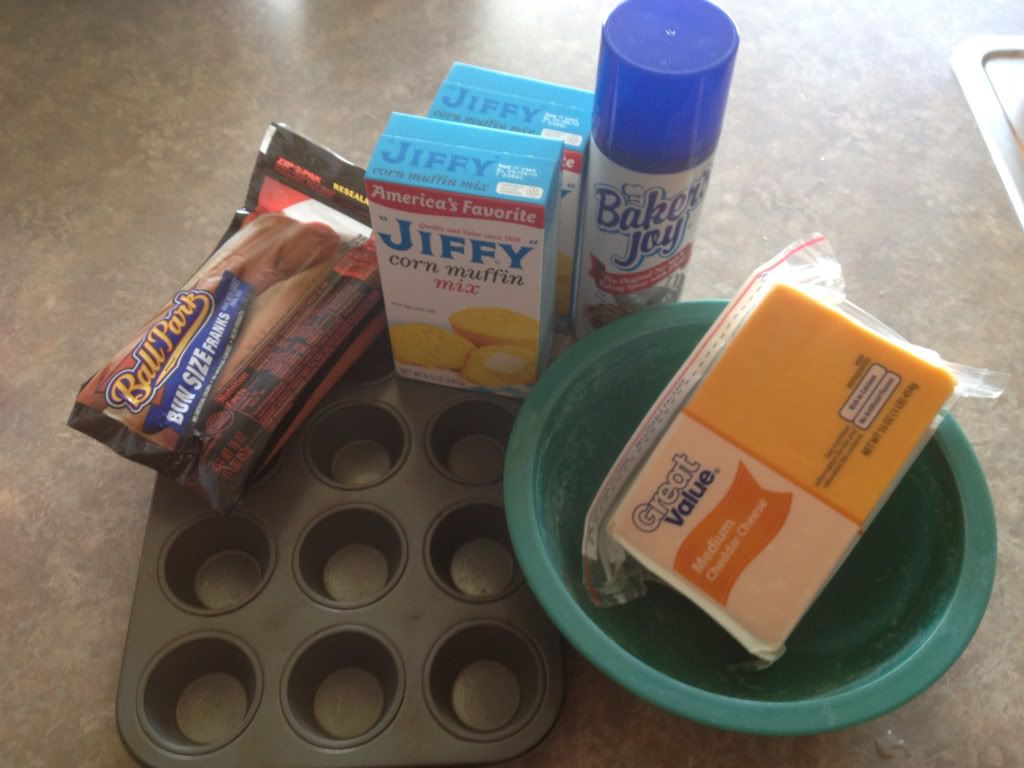 Directions
Preheat oven to 400 degrees. Mix cornbread according to package directions (you will need an egg and milk for this). I guess you could make cornbread batter from scratch but really? Once the batter is mixed, fill each cup of a MINI muffin tin 1/2 full. I greased my cups with Baker's Joy spray. Cut your hot dogs into 1 inch pieces and place one piece in each section with the cornbread batter. The batter will goosh up (yes, i said goosh) around the hot dog. DO NOT push the hot dog piece all the way down into the batter because the batter will stick and not cook evenly. Sprinkle a pinch of the cheese on top of each hot dog and then put them in the oven. **side note** – I am not the kind of cook who  puts on the timer and comes back for the food when the  timer beeps. I cannot tell you how long I cooked these corn dogs because I kept an eye on them and took them out when they looked done.  So, I suggest you do the same
I made 2 1/2 batches for a total of 40 Mini Corn Dogs. I served them with mac n' cheese and french  fries. Healthy? Not so much. Easy? Heck yeah, you can't get much easier.
Variations
-You could cut the hot dog bigger and use full size muffin tin.
-You could use a different kind of cheese and /or sprinkle cheese on batter before placing hot dog in.
They were super easy to make (my kids did most of the work) and the kids loved them. Mr. Perfect was hesitant about how they would taste but he wound up loving them, too. So, for the nights when your brain is fried and you can barely move, try this. You'll be happy you did!